19th December 2014

 | 

Accessories, Fashion 2014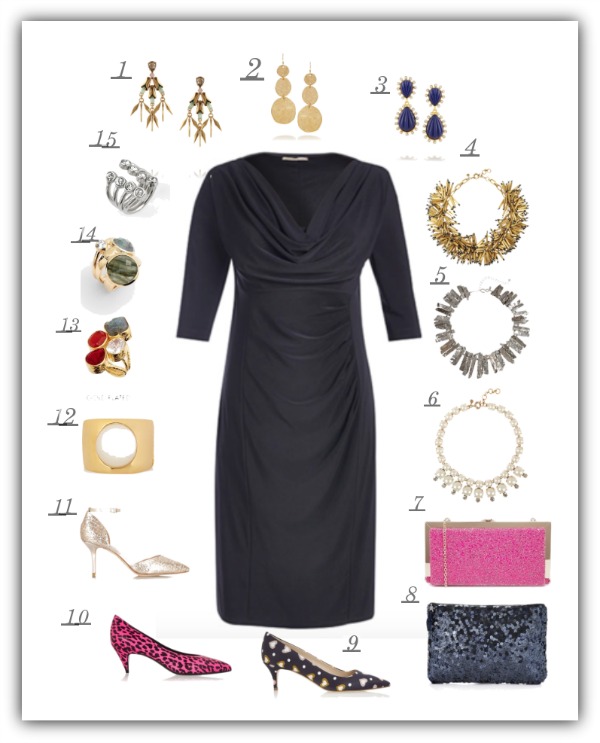 No time, no budget to buy a new dress. Most of us have a tried and tested LBD or something similar in our wardrobes. We may have worn it many times and have grown a little tired of it.
However it can easily be updated with a few clever accessories. Some eye catching statement jewellery or a killer pair of shoes. Suddenly that LBD can look new again in an instant. No-one will know it is the same one you wore last year.
Should you need a new one I would highly recommend this well made LBD by David Napier, it ticks all the boxes, comes in a choice of two lengths and has sleeves etc. Available here 
Details of accessories in image:
1. Earrings here // 2. Gold earrings here // 3. Blue earrings here // 4. Gold necklace here //5. Silver necklace here //6. Pearl necklace here // 7. Pink glitter clutch here // 8. Blue sequin clutch here // 9. Heart kitten heels here // 10. St. Laurent pink pumps here // 11. Lucy Choi gold heels here // 12. Gold/pearl cuff here // 13. Spice box 4 stone ring here // 14. Margo stack ring here // 15. Open band crystal ring here .
OTHER OPTIONS
Enjoy the festive season knowing you look appropriately and chicly attired.